Italy - Lake Garda to Venice

DURATION
8 days/7 nights

PRICE FROM
1805 €

COLLECTION
Cycling - Standard

DESTINATION
Italy

SEASONALITY
This tour starts any day of the year.
Highlights
A wonderful self-guided cycling holiday in Italy, taking you from the southern shores of Lake Garda to the charming city of Venice. Full to the brim with great riding, you'll be able to check out some wonderful areas of Italy as you ride, including Sirmione, Verona and Chioggia. This is your chance to enjoy a fantastic cycling holiday, giving you an insight into the natural wonders of northern Italy. The trip has been set up to give you the chance to visit the hidden renaissance gems of the "Belpaese". The first couple of days of your holiday will be spent exploring the stunning countryside and charming lake-side towns that surround the southern shores of Lake Garda. Leaving the lake behind, you will ride through beautiful countryside on your way to Verona. You'll follow the Adige River, alongside canals, through fields cultivated with fruit and vines, and over hills with plenty of time in between to stop and see the sights along the way.
To see
-Lake Garda
-Le Colline Moreniche
-Verona
-Montagnana
-ESTE et Padova
-Venice
Gastronomy
Wine
Testimonials
« We very much enjoyed our self-guided cycling tour. We had great support and communication in the planning. Throughout our week everything went off as planned. Mark B. »
« This was my second experience with Discover France and had, again, an amazing time with my children. If you want to discover, on your own, little cities in France, this is what you have to do. Linda G. »
« Our first but certainly not our last trip to beautiful France! The routes were well laid out, the app worked well, the bikes were comfortable and the hotels were excellent. Ingrid A. »
« We truly had a glorious time and only have compliments for you and your company. Equipment, information, assistance, accommodation were faultless and Solène at Discovery France took care of us from the first e-mail of enquiry until the end of the cycle trip. We truly can't wait for our next adventure with Discover France. Anna.V »
Previous
Next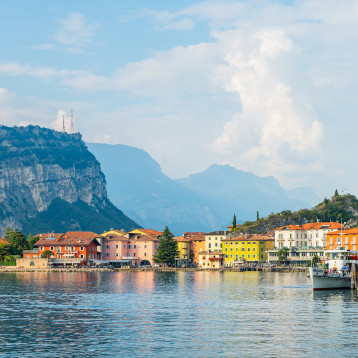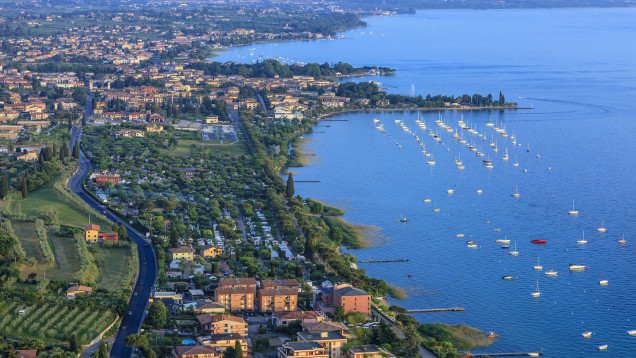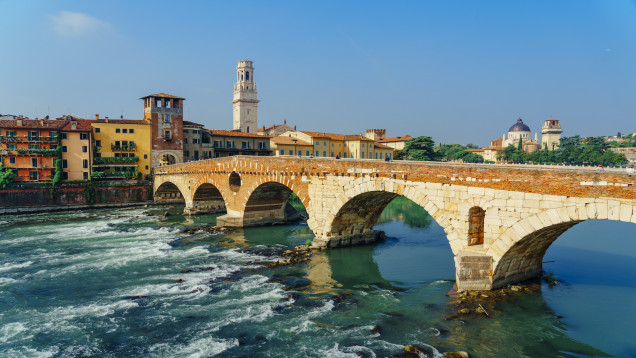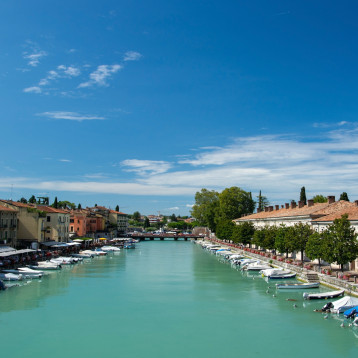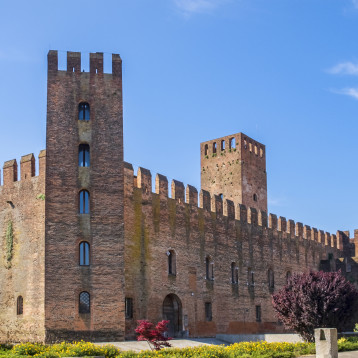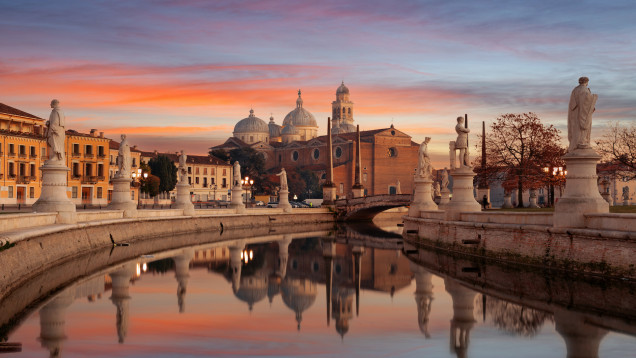 PROGRAM
J-1
Arrival in Garda

Arrival at the hotel in Garda on your own. You will spend your first night in the town of Garda, on the southeast shores of Lake Garda.
Accommodation :
Hotel Bisesti*** - Garda
show
Included :
Emergency support,phone not provided,mobile guidance application,roadbook,travelbook,Orientation with a local guide,luggage transfer,bedroom and breakfast
---
J-2
Bardolino - Lake Garda - Bardolino

A gentle and relaxing start to your cycling holiday that will allow you to enjoy the delights of Lake Garda and explore the surrounding countryside. Ideally located on the south-east shores, the area is a network of cycle routes leading you into the countryside of expanses of vineyards over gentle hills. Cycle routes will take you through quaint little villages just below the Mt Baldo range, and will then take you back to the shores of the lake, where you can enjoy the lake-front vibrant life of Latize and Garda itself. In the evening, Garda(your home for the night) becomes full of life and with plenty of little restaurants and Italian Trattorias to choose from, you are set up to have a lovely evening out.
Distance : 41 Km (25 mi) or 51 Km (32 mi)
Elevation: 547m or 669m
Accommodation :
Hotel Bisesti*** - Garda
show
Included :
bedroom and breakfast


---
J-3
Bardolino - Peschiera

Your day today will start with a short cruise across the lake to Sirmione. From the boat you can admire the eastern shore of the lake, dominated by the long ridge of Mount Baldo, rising over 2000m above the lake. Sirmione was once a famous Roman spa and still attracts visitors for the curative waters and charming character. In roman times villas were built here, including that of the poet Catullus who wrote of the beauty of the lake in his verses. Sirmione is also full of art treasures and history, starting with the Castle through which one must pass to reach the old centre.
From Sirmione you'll ride south following quiet country lanes, through vineyards, peach orchards and kiwi plantations, in the rolling hills of the region known as Le Colline Moreniche. You'll stop at San Martino di Battaglia, with its curious museum of armaments. Meandering past typical farm holdings, you'll arrive at Castellaro Lagusello, a quaint village and ideal location to stop for lunch in one of the local trattorias. Heading back to Lake Garda, the final section is riding the Mincio cyclepath into the fortified walls of Peschiera, your destination for the night.
Distance : 24 Km (15 mi) or 45 Km (28 mi).
Elevation: 167m or 233m
Accommodation :
Hotel Dori*** - Peschiera
show
Included :
luggage transfer,bedroom and breakfast


---
J-4
Peschiera - Verona

Your destination today is the city of Romeo and Juliet, with renaissance palaces, the roman arena and many cosy corners. Setting off from Peschiera, you'll start today's ride, cycling north along the east side of the lake. Heading inland, rolling hills cultivated with kiwi, peach plantations and olive groves will accompany you along the way. The last section is a ride along the Adige cycle path, leading you into Verona.
You'll have time to enjoy a stroll through this remarkable renaissance city, recently named as a World Heritage Site. Verona has delighted painters, poets, travellers and celebrities for centuries. It is a work of art in itself: a fascinatingcross-road of historical periods and cultures (both classical and Germanic), a blend of both Nordic and Mediterranean influences. After settling into the hotel, you'll have an evening to explore Verona and try out one of the many quality restaurants in town.
Distance : 33Km (20 mi).
Elevation: 218m
Accommodation :
Relais 900 - Verona
show
Included :
luggage transfer,bedroom and breakfast

---
J-5
Verona - Montagnana

You will leave Verona riding mostly on cycle paths along the banks of the Adige river. This interesting route, mostly on dirt roads and canal embankments, is a relaxing ride and surrounded by nature, allowing you to explore the plains south of Verona, characterised by expanses of orchards and vineyards which extend to the foot of the Euganean Hills.
Always riding on flat routes, you will reach the medieval town of Montagnana. Montagnana is a beautiful and peaceful town, universally famous for its beautiful, and perfectly preserved, medieval city walls. Time permitting you may have the opportunity to visit some of the ancient walls.
Distance : 59km (37mi)
Elevation: 138m
Accommodation :
Hotel Aldo Moro - Montagnana
show
Included :
luggage transfer,bedroom and breakfast

---
J-6
Montagnana - Padova

Today's route reaches Padova passing through the town of Este, travelling along the banks of the River Frassine. You will be riding along quiet country roads with interesting natural features and the typical landscape of the Veneto countryside. Arriving in Este you will see the tower of the castle and part of the ruins, dating from the eleventh century. They are the only remaining artifacts of the five castles, built on the banks on the outskirts of the city to defend the strategic river accesses. This part of the route is mostly along the banks of the canals that surround the isolated group of hills. In particular you'll ride along the banks of the River Bacchiglione taking a network of cycle paths. Padova is a city characterised by complex town planning, a result of 2500 years of history. The city houses some world-famous works of art; from the traces of the Roman Age splendour to the masterpieces of the Middle Ages.
Distance : 61 km (38mi)
Elevation: 260m
Accommodation :
Hotel Al Prato - Padova
show
Included :
luggage transfer,bedroom and breakfast

---
J-7
Padova - Venice - Chioggia

You'll continue with your journey heading towards Mestre and then onto Venice.
Following a mixture of country lanes and cycle paths, you'll ride through more beautiful landscapes and past regal mansions, following canals and natural reserves. Reaching Mestre, you'll arrive at the train station. From here you can take one of the regular trains to Venezia St Lucia, only a 12 minute journey, to avoid the busy section over the Liberty Bridge to Venice (train tickets not included, approximately 3€ per person). Here you'll have time to stop and lock up your bikes for a few hours, allowing time to visit one of the famous Venetian Palaces and explore the city's most beautiful and fascinating sights on foot. In the afternoon you will jump on the ferry first to Lido and then to Pellestrina Island. The Lidi di Chioggia are long strips of land that divide the lagoon from the Adriatic Sea and go from Venice to Chioggia, broken only by a few channels. Large sea defenses run the total length of the island with characteristic embankments called "Murazzi" which you will be cycling along, offering unique views of the sea and the lagoon of Venice. One more ferry will take you to Chioggia. Situated on a small island at the southern entrance to the Lagoon of Venice, Chioggia is a miniature version of Venice, with characteristic narrow streets known as calli. Chioggia has several medieval churches, which were renovated during the 16th and 17th centuries, a period of great prosperity in the area.
Distance : 73 km (45mi)
Elevation: 110m
Note: You can split today's ride in two, stop in Venice, and overnight there. Then the next day (day 8) carry on riding the last 22 km of the Lido islands and take the ferry to Chioggia. (If you are interested, please contact our sales team).
Accommodation :
Hotel Grande Italia - Chioggia
show
Included :
luggage transfer,bedroom and breakfast

---
J-8
Departure from Chioggia

Time to say goodbye to this charming part of Italy. Eventual transfer back to Verona will take approx 1.5 hours (not included).
---
ARRIVALS & DEPARTURES
-Arrival in Garda
-You can take a taxi
-OR Fom Milan Malpenza airport to Milan centrale (1h) by bus, then take a train to OLZANO BOZEN • Trenitalia Frecce(57 mn). Arrive at peschiera del garda, go to peschiera stazione fs and take a bus (34mn) to Garda
BIKES

included
Your bike : Giant Roam 1 Disc - Giant Liv Rove 2
More info
Hybrid bikes giant Roam 1 Disc with the confidence of a mountain bikeand the quickness of a road bike, this bike is ready for streets, paths or trails. All sizes available: S, M, L, XL.
Frame: ALUXX-Grade Aluminium
Fork: SR Suntour NEX Hydraulic Lock Out, 63mm travel
Giant LIV Rove 2.Main Street, side streets or forest trails. Your choices are limitless with versatile rove disc.All sizes available: XS, S, M, L.
Frame: ALUXX-grade aluminum
Fork: SR Suntour NEX, 63mm travel with lockout
Included with your bike rental :
• Pannier rack
• Tool kit
• Spare inner tube
• Bike lock
• Bike pump
• Km counter
• Map holder
Note: "Please notice that every bike change during the trip may cause an extra cost."


optional
Your bike : Cube Touring Hybrid One 500
More info
Bike rental description
Whatever you do, wherever you go, the Touring Hybrid ONE will get you there in comfort and style. Our affordable, adpaptable hybrid tourer has everything you need to make riding your Bosch e-bike a pleasure. Whether you opt for the Easy Entry, Trapeze or Men's version, our engineers have carefully crafted the frame to ensure seamless integration of the Bosch drive unit and battery, placing them in the optimum position for safe handling and sleek good looks that you'll be proud of. Slick-shifting 9 speed Shimano gears ensure that you can take on any hill with ease, while powerful hydraulic disc brakes offer safe stopping in all weathers and mudguards, a lighting system and kickstand provide the versatility you need for any eventuality. Just jump on and ride...
Included with your bike rental :
• Pannier rack
• Tool kit
• Spare inner tube
• Bike lock
• Bike pump
• Km counter
• Map holder
frame: Aluminium Superlite, Gravity Casting, Efficient Comfort Geometry, Semi-Integrated Carrier
fork: SR Suntour NEX-E25, 63mm
rear derailleur: Shimano RD-M2000-SGS, 9-Speed
shifters: Shimano SL-M2000, Rapidfire-Plus
Note: "Please notice that every bike change during the trip may cause an extra cost."

Details
Included
Not included
-Airfare to and from the trip
-Lodging before and after the trip
-Drinks
-Some meals are not included in each destination, which gives you the opportunity to explore regional cuisine on your own. You will find all information needed with our team support in your roadbook.
-Ferry tickets on day 3 (approx 10€ incl. bikes)
-Train tickets on day 7 (approx 3€ incl. bikes)
-Ferry tickets on day 7 (approx 20€ day pass incl. bikes)
-Local tourist tax to be paid at each accommodation (approx 2€ per day)
-Airport transfers in & back
Other questions?
See our FAQs page for answers to common questions.
FAQ

Rates
Tour rates vary based on hotel availability and specific start date
PRICE FROM / PER PERSON
STANDARD HOTEL ACCOMODATION

* Please contact us for triple hotel rates. ** Traveling with a group. *** Traveling alone.
Upgrade your bike
From / Per person
Cube Touring Hybrid One 500
CANCELLATION INSURANCE
Cancellation insurance 6%
STANDARD HOTEL ACCOMODATION FROM
Hotel Bisesti*** - Garda
Located on the main road of Garda, the hotel is only 150 mt. from the lake promenade and just a 5 minutes walk from the pitoresque centr of this small town. The accommodation business started in 1957 by Milena Bisesti and her husband Giovanni Lorenzini. Over the years it has always been kept in step with the times by the sons Giuseppe, Graziano, Pietro Luigi and Roberto and now also with the nephew Fabio and the niece Laura.
https://www.hotelbisesti.com/

Hotel Bisesti*** - Garda
Located on the main road of Garda, the hotel is only 150 mt. from the lake promenade and just a 5 minutes walk from the pitoresque centr of this small town. The accommodation business started in 1957 by Milena Bisesti and her husband Giovanni Lorenzini. Over the years it has always been kept in step with the times by the sons Giuseppe, Graziano, Pietro Luigi and Roberto and now also with the nephew Fabio and the niece Laura.
https://www.hotelbisesti.com/

Hotel Dori*** - Peschiera
In Peschiera del Garda Hotel Dori gives you the opportunity, thanks to its 20 rooms, to stay just 200 metres from the historical centre, 500 metres from Lake Garda and a few steps from one of the most majestic gates of the town: Porta Brescia. Lake Garda is very easy to reach by foot, and nearby you can find wonderful beaches which are suitable and equipped for our pet friends too. Hotel Dori on Lake Garda is the perfect destination for walking lovers and bike riders who will enjoy the cycle path connecting Peschiera del Garda to Mantua, by going along the river Mincio and through one of the most famous historical towns of Italy: Borghetto in Valeggio sul Mincio.
http://www.hoteldori.com/

Relais 900 - Verona
The Hotel Relais900,heritage residence, is located in Verona's city center UNESCO site close to the Garda Lake ,Verona City is famous by William Shakespeare Giulietta and Romeo Opera also. We are pleasure to welcome you inside our strutture where you can relax during your Verona journey. The villa is compoused by two different floors ,only 9 luxurious rooms, each furnished with elegance by the owner and provided with every comfort. Thence you will enjoy a unique view of the city.
https://www.relais900.it/fr-fr

Hotel Aldo Moro - Montagnana
Set in the medieval town of Montagnana, near the Euganean Hills, Aldo Moro is a family-run hotel offering free parking and large gardens where meals are served during summer. Wi-Fi is free throughout., Rooms at Hotel Aldo Moro are elegantly decorated with crystal chandeliers and dark wood furniture. They are all air-conditioned and come with satellite flat-screen TV.
https://www.hotelaldomoro.com/en

Hotel Al Prato - Padova
The Hotel al Prato offers its guests a modern and comfortable environment in which to stay pleasantly in Padua, in a building restored and furnished in the name of freshness, practicality and passion for contemporary design. The idea behind the choices that led to the creation of the spaces and the furniture is one of dynamism and lightness, directly borrowed from the very idea of ​​reception that the management of the hotel offers its clients: intercept and understand the different needs of guests, offering everyone a stay as compatible with these and try to create that atmosphere that can make everyone feel they are in a home away from home.
https://hotelalpratopadova.it/en/

Hotel Grande Italia - Chioggia
Hotel Grande Italia is located in Chioggia, an ancient fishing village overlooking the venetian lagoon, charming and famous for the comedy of Carlo Goldoni "Le Baruffe Chiozzotte". The hotel is in a quiet pedestrian area of Piazzetta Vigo, from which you can reach immediately the boarding point that, going through the island of Pellestrina, arrives in San Mark Square, in the heart of marvelous Venice.
https://www.hotelgrandeitalia.com/en/