Normandy Walking Tour: WWII sites

DURATION
5 days/4 nights

PRICE FROM
1260 €

COLLECTION
Hiking - Standard

DESTINATION
Normandy

SEASONALITY
This tour starts any day of the year.
Highlights
Rich in both history and natural beauty, the area of this hiking tour is home to the Normandy landing Beaches and the Bayeux tapestry and several very popular coastal resorts. A perfect place for relaxing and exploring !
In our program we worked out an itinerary which contains a lot of memorials, museums, sites, cemeteries and places of historical interest. Also you will walk through villages and hamlets, parks and gardens and will discover stately residences, manor houses and fortified chateaux. You will visit the beaches where the troops landed to begin the invasion of France in the Second World War, continue to be a very popular destination and there are various associated locations such as the war cemeteries and museums explaining the history of the 'debarquement' as it is known in France.
Don't forget to relish the fabulous gastronomy of this area; Normandy is well known for its superb gastronomy, using its signature apples in many regional dishes.
To see
-museum visit of the Caen Memorial
-The Atlantic Wall Museum
-D-Day Landing Museum in Arromanches
-Longues sur Mer battery site in front of Omaha and Gold Beach
-Musée de la Bataille de Normandy and Mémorial du Général de Gaulle
Gastronomy
Cider, crepes, the Calvados, chicken of Calvados, camembert, the Pont l'Evêque cheese, Normandy apple pie, the teurgoule, the oysters, the scallop shell
Wine
the Calvados
Testimonials
« We very much enjoyed our self-guided cycling tour. We had great support and communication in the planning. Throughout our week everything went off as planned. Mark B. »
« This was my second experience with Discover France and had, again, an amazing time with my children. If you want to discover, on your own, little cities in France, this is what you have to do. Linda G. »
« Our first but certainly not our last trip to beautiful France! The routes were well laid out, the app worked well, the bikes were comfortable and the hotels were excellent. Ingrid A. »
Previous
Next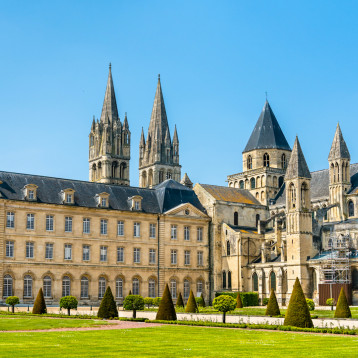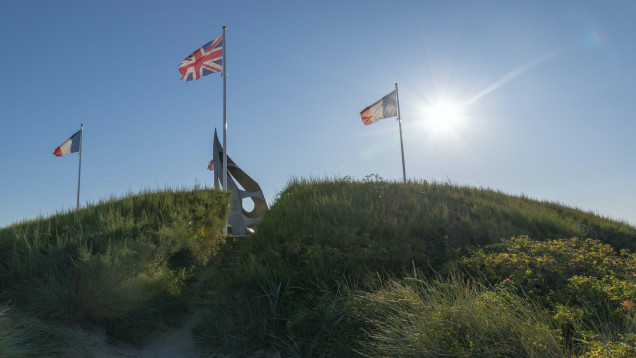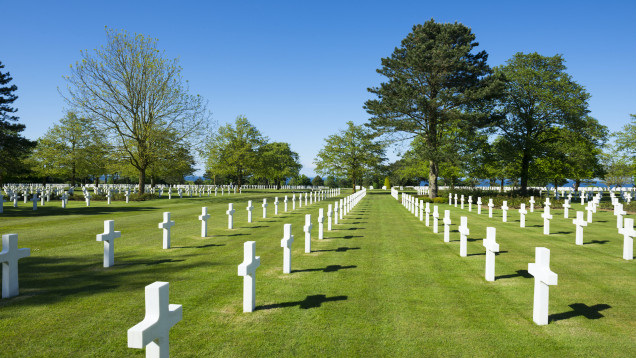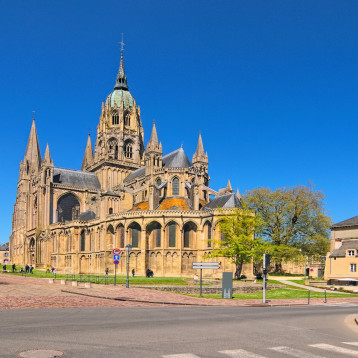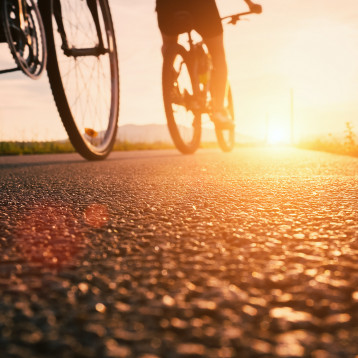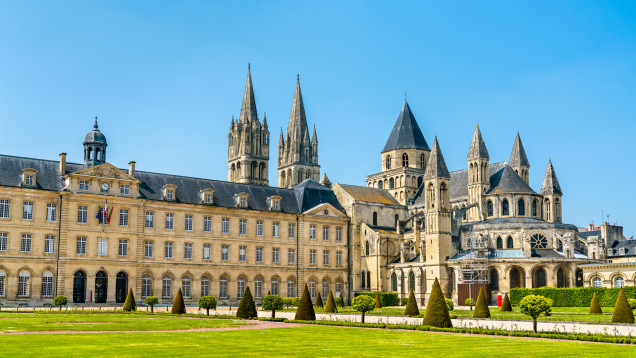 PROGRAM
J-1
Arrival in Caen

Arrival in Caen, (transfer on your own to the hotel), the main city of the region and home of the WWII Peace Memorial. After checking in at your hotel, you will have some free time to discover this city. A museum visit of the Caen Memorial is a highly informative and complete start of your tour.
Included :
Emergency support,phone not provided,mobile guidance application,roadbook,travelbook,Orientation with a local guide,luggage transfer,bedroom and breakfast,Access to the Spa
---
J-2
From Caen LOOP to Merville

After breakfast, a taxi will transfer you at 9:30am to the Battery Museum of Merville-Franceville-Plage sur Mer in the Calvados area, from where you follow a part of a local GR (Grand Randonnée/Long Distance trail) along the Orne River. During this walk you will, at several places, have a view on the sea of Sword Beach. The trail brings you via the fauna and flora of the Orne river estuary to the Benouville Bridge, renamed Pegasus Bridge where you can visit the Pegasus Memorial and museum, dedicated to the first liberators who arrived in Normandy on the night of 5th/6th June 1944. The west bank of the canal will bring you to Ouistreham where, on Riva Bella you will have an overview on the landing area of Sword Beach. Here you can visit the Atlantic Wall Museum, a former German headquarters. The Belvedere has an interesting orientation table and in front of the casino you can visit the Landing museum. Return to the hotel by taxi transfer at 5:30pm. (RDV Tourist Office).
Distance : 16 km (10 mi).
Elevation : 75 m.
Included :
taxi,client transfer,Itinerary (no cue sheets),bedroom and breakfast,Access to the Spa

---
J-3
From Caen via Arromanches to Port en Bessin 1 sur 2 (Hiking)

Today starts with a taxi transfer at 9:30am to an interesting point about 500 m east from Arromanches-les-Bains. On the descent to Arromanches you walk past Arromanches 360, a circular theatre where "The Price of Freedom" is shown on nine screens. In the D-Day Landing Museum in Arromanches you learn about the construction and operation of the artificial harbors assembled in front of Arromanches on the days following D-Day. After a short walk along the cliffs we take some country lanes to pick up the trail to the Longues sur Mer battery site in front of Omaha and Gold Beach. More country road lanes bring you to Port-en Bessin. As soon as you walk in the town, the shipyard and trawlers of the fishing fleet will tell you that you are in important fishing harbor.
After a taxi transfer to Bayeux at 5:30pm, you may take the opportunity to visit one of the many points of interest of this town of art. The Bayeux Tapestry –70 m long and 50 cm high, completed in the 11th century-is unique in the world. Other visits include the recently re-opened Musée de la Bataille de Normandy and Mémorial du Général de Gaulle.
Distance : 15 km (9 mi).
Elevation : 121 m.
Accommodation :
Le Lion d'Or*** - Bayeux
show
Accommodation :
Villa Lara***** - Bayeux
show
Included :
luggage transfer,bedroom and breakfast,dinner (no drinks)

---
J-4
From Bayeux LOOP to Omaha beach

In the morning, you will be transferred at 9:30am to Colleville-sur-Mer, a nice quiet village which will be your point of departure of today. A nice walk brings you to the see where we have a superb overview of Omaha Beach. You walk along the vacation resort and reach, after an uphill through a former battery site, the US Military Cemetery. You can visit the cemetery (172.5 acres) , the chapel and the memorial dedicated to the youth of America. There is also a viewpoint which overlooks Omaha Beach. The GR brings you up to the coastline where you can walk on the beach (part of Omaha Beach) until les Moulins. Here again you have to follow the trail until the Omaha viewpoint and . Return to Bayeux by taxi transfer at 5:30pm. (Meeting at the Hotel du Casino Vierville).
Distance : 16 km (9 mi).
Elevation : 125 m.
Accommodation :
Le Lion d'Or*** - Bayeux
show
Accommodation :
Villa Lara***** - Bayeux
show
Included :
taxi,bedroom and breakfast

---
J-5
Departure from Bayeux

You can take your time getting started in the morning to have breakfast and depart at your leisure. Trains from Bayeux to Caen and Paris possible. (Depart on your own).
---
ARRIVALS & DEPARTURES
-Arrival city is Caen. Train access via Paris. Trains from St Lazare station.
**We do not recommend taking this tour around the anniversary of D-Day, June 6th. Hotels fill up very far in advance, there is more traffic on the roads and some of the routes may be closed.
-Departure from Bayeux : Trains from Bayeux to Caen and Paris possible.
Details
Included
ACCOMODATIONS
-4 nights of accommodation in superior hotels of charm with private shower and/or bath
MEALS
-Daily breakfast at each hotel, 1 dinner included (no dinner included with the Upgraded package)
GEAR
-Complimentary Discover France Gear (including water bottle, drawstring bag)
-Guidance Application (phone not provided)
SUPPORT
-Orientation on Site
-Detailed ROAD BOOK, including detailed maps, touristic information, step by step itinerary and cue sheets
-Comprehensive trip literature
-Technical and emergency support available at all times

TRANSFER
-All luggage transfers
Not included
-Airfare to and from the trip
-Lodging before and after the trip
-Drinks
-Some meals are not included in each destination, which gives you the opportunity to explore regional cuisine on your own. You will find all information needed with our team support in your roadbook.
-Option for an in-person orientation with a supplement.
-Multirisk travel insurance
Other questions?
See our FAQs page for answers to common questions.
FAQ

Rates
Tour rates vary based on hotel availability and specific start date
PRICE FROM / PER PERSON
STANDARD HOTEL ACCOMODATION

UPGRADED HOTEL ACCOMODATION

* Please contact us for triple hotel rates. ** Traveling with a group. *** Traveling alone.
STANDARD HOTEL ACCOMODATION FROM
UPGRADED HOTEL ACCOMODATION FROM
Le Dauphin**** - Caen
Le Dauphin is a charming hotel offering quiet rooms and a delightful restaurant. Located in the heart of William the Conqueror's ancient city it is easily accessible to many of the areas attractions. From Caen you can choose to visit the D-Day beaches or shop in the famous cities of Deauville and Honfleur. The 37 guest rooms are comfortably equipped with satellite TV, mini bar, and safe. On site there is also a fitness center with a sauna.
https://www.le-dauphin-normandie.fr/english-version

Le Dauphin**** - Caen
Le Dauphin is a charming hotel offering quiet rooms and a delightful restaurant. Located in the heart of William the Conqueror's ancient city it is easily accessible to many of the areas attractions. From Caen you can choose to visit the D-Day beaches or shop in the famous cities of Deauville and Honfleur. The 37 guest rooms are comfortably equipped with satellite TV, mini bar, and safe. On site there is also a fitness center with a sauna.
https://www.le-dauphin-normandie.fr/english-version

Le Dauphin**** - Caen
Le Dauphin is a charming hotel offering quiet rooms and a delightful restaurant. Located in the heart of William the Conqueror's ancient city it is easily accessible to many of the areas attractions. From Caen you can choose to visit the D-Day beaches or shop in the famous cities of Deauville and Honfleur. The 37 guest rooms are comfortably equipped with satellite TV, mini bar, and safe. On site there is also a fitness center with a sauna.
https://www.le-dauphin-normandie.fr/english-version

Le Dauphin**** - Caen
Le Dauphin is a charming hotel offering quiet rooms and a delightful restaurant. Located in the heart of William the Conqueror's ancient city it is easily accessible to many of the areas attractions. From Caen you can choose to visit the D-Day beaches or shop in the famous cities of Deauville and Honfleur. The 37 guest rooms are comfortably equipped with satellite TV, mini bar, and safe. On site there is also a fitness center with a sauna.
https://www.le-dauphin-normandie.fr/english-version

Le Lion d'Or*** - Bayeux
The hotel restaurant le Lion D'or located in the heart of historical events in Bayeux, is the ideal location to discover the local treasures : Close by is the Bayeux Tapestry, the famous Notre Dame Cathedral, medieval Bayeux and its half-timbered houses a few kilometres from all the landing beaches,.. This welcoming hotel, steeped in history and formerly the headquarters of the English press during the last World War, welcome you in a family atmosphere. Each of the 31 rooms of Le Lion d'Or offers all the comfort expected of a 3-star hotel. A full and hearty breakfast, an original and warm lounge bar where you can just relax, a gourmet restaurant with a refined cuisine... make up the services and the hotel-quality service provided. Le Lion d'Or in Bayeux has hosted many politicians, armies, film personalities, etc.: Eisenhower, General De Gaulle, the Kennedy family, Prince Charles, Hemingway, Steven Spielberg, Tom Hanks, Catherine Deneuve, Jean Paul Belmondo, Jacques Chirac, ..
http://www.liondor-bayeux.fr/en/

Villa Lara***** - Bayeux
Just opposite the Bayeux Cathedral, discover the Villa Lara… The 4-star boutique hotel, designed by Michel HOMSY, is located in the heart of the historic centre. It is nested in a quiet, tree-lined square along the River Aure. The hotel is just steps away from the famous Bayeux Tapestry and very close to the sea and D-Day landing beaches. The 28 rooms have decors in varied colour schemes and furnishings crafted by the famous French cabinetmaker Moissonnier. They offer comfort, harmony and a view of the 11th-c. Cathedral, beautifully illuminated at night. Make way in the morning to breakfast area where you will find a delicious buffet with regional offerings. There is a bar-lounge area leading to the library lounge with a fireplace, a fitness room and a meeting room equipped with the latest technologies is at your service.
http://www.hotel-villalara.com/en/

Le Lion d'Or*** - Bayeux
The hotel restaurant le Lion D'or located in the heart of historical events in Bayeux, is the ideal location to discover the local treasures : Close by is the Bayeux Tapestry, the famous Notre Dame Cathedral, medieval Bayeux and its half-timbered houses a few kilometres from all the landing beaches,.. This welcoming hotel, steeped in history and formerly the headquarters of the English press during the last World War, welcome you in a family atmosphere. Each of the 31 rooms of Le Lion d'Or offers all the comfort expected of a 3-star hotel. A full and hearty breakfast, an original and warm lounge bar where you can just relax, a gourmet restaurant with a refined cuisine... make up the services and the hotel-quality service provided. Le Lion d'Or in Bayeux has hosted many politicians, armies, film personalities, etc.: Eisenhower, General De Gaulle, the Kennedy family, Prince Charles, Hemingway, Steven Spielberg, Tom Hanks, Catherine Deneuve, Jean Paul Belmondo, Jacques Chirac, ..
http://www.liondor-bayeux.fr/en/

Villa Lara***** - Bayeux
Just opposite the Bayeux Cathedral, discover the Villa Lara… The 4-star boutique hotel, designed by Michel HOMSY, is located in the heart of the historic centre. It is nested in a quiet, tree-lined square along the River Aure. The hotel is just steps away from the famous Bayeux Tapestry and very close to the sea and D-Day landing beaches. The 28 rooms have decors in varied colour schemes and furnishings crafted by the famous French cabinetmaker Moissonnier. They offer comfort, harmony and a view of the 11th-c. Cathedral, beautifully illuminated at night. Make way in the morning to breakfast area where you will find a delicious buffet with regional offerings. There is a bar-lounge area leading to the library lounge with a fireplace, a fitness room and a meeting room equipped with the latest technologies is at your service.
http://www.hotel-villalara.com/en/