Coast and Castles 6 Days Cycling

DURATION
7 days/6 nights

PRICE FROM
1396 €

COLLECTION
Cycling - Standard

DIFFICULTY
or

DESTINATION
United Kingdom
,
England

SEASONALITY
This tour starts any day of the year. A minimum of 2 people is required for this trip
Highlights
A classic cycling holiday in the UK from Newcastle-upon-Tyne to Edinburgh, on The National Cycle Network Route 1: Coast and Castles, and utilising the North Sea Cycle Route.
Arriving in Newcastle with its excellent transport connections, you'll spend your first night in this vibrant city. The next day, after following the River Tyne to the coast at Tynemouth, you'll head northwards following the Coast and Castles route. The route will take you up the dramatic and beautiful Northumberland Coast, with its long sandy beaches and spectacular castles, which include Dunstanburgh and Bamburgh.
Next stop is Holy Island (Lindisfarne), being careful to have checked out the tide times, before edging your way to the Scottish Border at Berwick-upon-Tweed. From here you head inland up the majestic Tweed Valley to Melrose, which is famed for its gothic abbey.
Onwards then to Innerleithen, with the the final leg a superb spot of cycling through the Moorfoot Hills and onto Edinburgh, for a great finish in Scotland's capital city. This is a classic cycle route, full of awesome scenery and historical interest.
To see
- Cycling past the dramatic Tynemouth Priory
- Miles of pristine dunes and sandy beaches at Druridge Bay
- Stunning vistas as you approach imposing Bamburgh Castle
- Your first glimpse of Edinburgh from the Moorfoot hills
- The rugged beauty of the borders
- A celebratory dram in the shadow of Arthur's Seat
Gastronomy
Wine
Testimonials
« We very much enjoyed our self-guided cycling tour. We had great support and communication in the planning. Throughout our week everything went off as planned. Mark B. »
« This was my second experience with Discover France and had, again, an amazing time with my children. If you want to discover, on your own, little cities in France, this is what you have to do. Linda G. »
« Our first but certainly not our last trip to beautiful France! The routes were well laid out, the app worked well, the bikes were comfortable and the hotels were excellent. Ingrid A. »
« We truly had a glorious time and only have compliments for you and your company. Equipment, information, assistance, accommodation were faultless and Solène at Discovery France took care of us from the first e-mail of enquiry until the end of the cycle trip. We truly can't wait for our next adventure with Discover France. Anna.V »
Previous
Next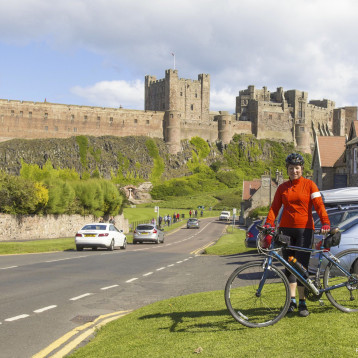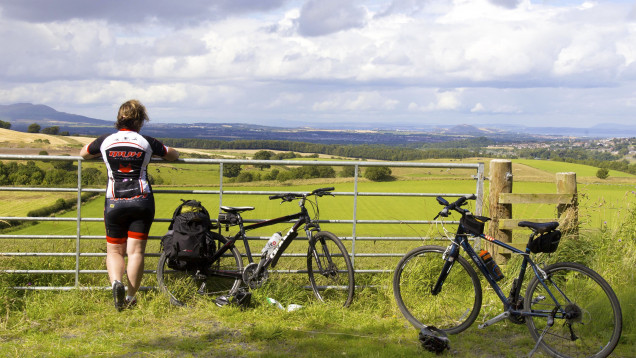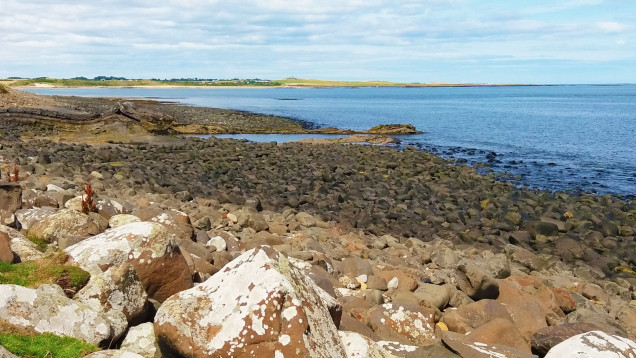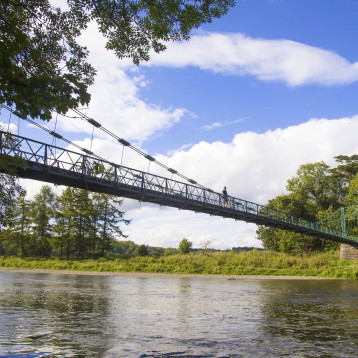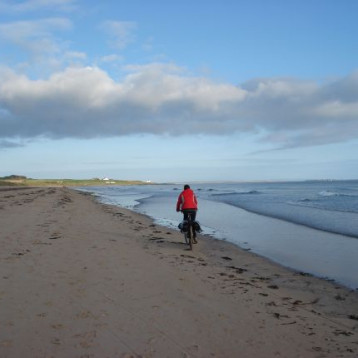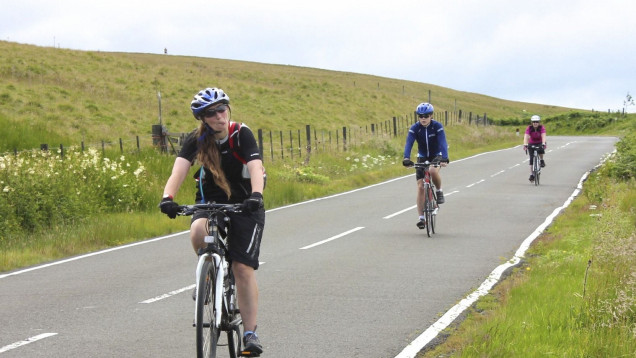 PROGRAM
J-1
Arrival in Newcastle

With its excellent road, rail and air connections getting to Newcastle is easy (see travel options for more details). The
guide representative will meet you at your hotel the following morning.
Accommodation :
Hilton Newcastle Gateshead**** - Gateshead
show
Included :
phone not provided,mobile guidance application,roadbook,travelbook,luggage transfer,bedroom and breakfast
---
J-2
Orientation & bike set-up at your hotel

You will be met by our representative and given a tour welcome briefing. He will bring your bicycles, road-books, GPS and touristic information.
An expert of the region, you can ask him all the questions you have about your trip. Then he will adjust your bike so you feel comfortable riding.
Accommodation :
The Old Post Office - Warkworth
show
Included :
Orientation with a local guide,luggage transfer,bedroom and breakfast
---
J-3
From Warkworth to Bamburgh

Your first stop this morning is the pretty village of Alnmouth. After stopping for a quick cup of tea your route takes you
towards the impressive medieval castles of Dunstanburgh and Bamburgh, as and the attractive coastal village of Craster. At Bamburgh, as well as the castle in its dramatic setting on a rock outcrop, there is the Grace Darling museum, a famous heroine of the lifeboats.
Distance : 43km (26mi)
Accommodation :
The Lord Crewe*** - Bamburgh
show
Included :
luggage transfer,bedroom and breakfast
---
J-4
From Bamburgh to Berwick-upon-Tweed

Just up the coast from Bamburgh you come to Lindisfarne, otherwise known as Holy Island, a key site in early Christianity and the place where the Lindisfarne Gospels were created in the 8th century. If the tide and time allows, it's worth a visit by crossing the tidal causeway. From Holy Island, it's on to the Elizabethan border town of Berwick upon Tweed, with its complex defences built up over the years of border wars. If you choose visit Holy Island you will need to add an additional 7 miles or 11 kms to todays cycling.
Distance : 48km (30mi)
Accommodation :
The Elizabethan Town House**** - Berwick-upon-Tweed
show
Included :
luggage transfer,bedroom and breakfast
---
J-5
From Berwick-upon-Tweed to Kelso

From Berwick-upon-Tweed, it's inland, along the Tweed valley to Kelso. On the way you'll cross the border into Scotland, then back into England over the famous Union Suspension Bridge, that spans the River Tweed between Horncliffe in Northumberland and Fishwick in the Scottish Borders. At the Chainbridge Honey Farm, you can get a cup of tea and feast yourselves on yummy cakes and enjoy them on an old London red double decker bus! As the name implies, you can buy lots of honey there too. A few miles on you cross back into Scotland at Norham Castle, and on to Kelso, with the impressive Floors Castle and your first night spent over the border!
Distance : 48km (30mi)
Accommodation :
Inglestone House Guest House - Kelso
show
Included :
luggage transfer,bedroom and breakfast
---
J-6
From Kelso to Innerleithen

The countryside is different to yesterday's riding, with a gentler landscape of farmland and woodland. A real combination of surfaces today, quiet lanes, cycle paths and a disused railway line through the beautiful Glen Ogle. You are now close to the birthplace of folk hero and latter day Robin Hood, Rob Roy Macgregor, whose grave may be found in Balquhidder. The final stretch is to Killin (or nearby) where you stop for the night.
Distance : 40km (25mi)
Elevation : 600m.
Accommodation :
Glede Knowe Guest House - Innerleithen
show
Included :
luggage transfer,bedroom and breakfast
---
J-7
From Innerleithen to Edinburgh

Heading north out of Innerleithen the route climbs up an over the Moorfoot Hills, with views of Edinburgh in the distance. Dropping down from the hills and heading through Dalkeith and Musselburgh you make your way into Edinburgh through the Innocent Tunnel and past Arthur's Seat to the finish point at The Mound.
Distance : 61km (38mi)
Included :
luggage transfer,breakfast
---
ARRIVALS & DEPARTURES
If you decide to drive we will provide you with full directions to the accommodation and meeting point in Newcastle.
You will be able to leave your car at the accommodation for the duration of the trip (supplement payable).
If you would prefer to catch the train the most convenient station for arrival is Newcastle.
Your hotel is a 15 minute walk, or 10 minute taxi ride away from the station.
Following completion of the ride in Edinburgh, you will be met by our representative at around 16.30.
You will then either start your return train journey from here or you will be transported back to Newcastle.
Please do not book any return trains from Edinburgh prior to 18.00 and return trains from Newcastle prior to 20.00.
There is a supplement payable for airport transfers.
BIKES

included
Your bike : Giant Roam 1 Disc - Giant Liv Rove 2
More info
Hybrid bikes giant Roam 1 Disc with the confidence of a mountain bikeand the quickness of a road bike, this bike is ready for streets, paths or trails. All sizes available: S, M, L, XL.
Frame: ALUXX-Grade Aluminium
Fork: SR Suntour NEX Hydraulic Lock Out, 63mm travel
Giant LIV Rove 2.Main Street, side streets or forest trails. Your choices are limitless with versatile rove disc.All sizes available: XS, S, M, L.
Frame: ALUXX-grade aluminum
Fork: SR Suntour NEX, 63mm travel with lockout
Included with your bike rental :
• Pannier rack
• Tool kit
• Spare inner tube
• Bike lock
• Bike pump
• Km counter
• Map holder
Note: "Please notice that every bike change during the trip may cause an extra cost."


optional
Your bike : Giant Entour E+ Disc
More info
Giant Entour E+ Disc pedal assist bikes with batteries suitable for the daily distances on this holiday but please bear in mind that the range can depend on several variables.
Included with your bike rental :
• Each bicycle is equipped with a bottle cage, front handlebar bag and rear pannier
• Helmet
• 2 Spare tubes
• Repair kit with tire levers & Patch kit
• Pump
• Bike lock
• Odometer
Note: "Please notice that every bike change during the trip may cause an extra cost."
Details
Included
ACCOMODATIONS
In the UK we use good quality 3 or 4 star hotels, B&Bs, inns and family-run guesthouses that are cycle friendly, located close to the cycling route and showcase the style and hospitality of the area you are visiting.
Where possible we prioritise locally owned businesses and those offering locally sourced food, drink and speciality products.
This all promotes sustainability in-line with our responsible travel policy.
All our UK trips are operated on a double/twin-share basis.
Single occupancy rooms can be provided for a supplement and are subject to availability at the time of booking.
MEALS
- Daily breakfast at each hotel
BIKES
- Hybrid bike rental included
GEAR
- Complimentary Discover France Gear (including water bottle, drawstring bag)
- Guidance Application (phone not provided)
SUPPORT
- Orientation in person with our local guide
- Detailed ROAD BOOK, including detailed maps, touristic information, step by step itinerary and cue sheets
- Comprehensive trip literature
- Technical and emergency support available at all times

TRANSFER
- All luggage transfers
Not included
- Airfare to and from the trip
- Lodging before and after the trip
- Drinks
- Some meals are not included in each destination, which gives you the opportunity to explore regional cuisine on your own. You will find all information needed with our team support in your roadbook.
- Multirisk travel insurance
Other questions?
See our FAQs page for answers to common questions.
FAQ

Rates
Tour rates vary based on hotel availability and specific start date
PRICE FROM / PER PERSON
STANDARD HOTEL ACCOMODATION

* Please contact us for triple hotel rates. ** Traveling with a group. *** Traveling alone.
Upgrade your bike
From / Per person
CANCELLATION INSURANCE
Cancellation insurance 6%
STANDARD HOTEL ACCOMODATION FROM
Hilton Newcastle Gateshead**** - Gateshead
The Hilton Newcastle Gateshead is a 4-star hotel overlooking the River Tyne and Newcastle city center pier. The hotel has modern, air-conditioned rooms and a health club with a gym and indoor pool. All rooms have an en suite granite bathroom, desk and TV. Executive rooms or suites enjoy access to the executive lounge with complimentary refreshments. The bar/lounge and Windows on the Tyne restaurant offer views of Tyne Bridge and the river. The restaurant serves modern international cuisine. The LivingWell Health Club has a modern gym, a 50-foot pool, and a sauna and steam room. The hotel also has a business center with meeting rooms for up to 500 people.
https://www.hilton.com/en/hotels/nclhihi-hilton-newcastle-gateshead/

The Lord Crewe*** - Bamburgh
Situated in the heart of Bamburgh village, The Lord Crewe is just a stone's throw away from Bamburgh's award-winning beach and the renowned Bamburgh Castle. We welcome guests from both near and far who are seeking exceptional dining and luxurious accommodation. With a strong focus on high-quality, local produce, specialising in luxurious seafood dishes, our menus are guaranteed to tantalise the tastebuds. The Lord Crewe features seven individually designed, boutique bedrooms. Our luxurious rooms are designed to maximise relaxation and provide the perfect setting to rest after exploring the unmatched beauty of the Northumberland coastline. All of our rooms include Molton Brown toiletries, Smart TV, luxurious bathrobes, Nespresso machine and homemade cookies.
https://www.lord-crewe.co.uk/#

The Elizabethan Town House**** - Berwick-upon-Tweed
Located in Berwick-upon-Tweed, Elizabethan Town House - Guest house is near a train station. Old Bridge and Royal Tweed Bridge are local landmarks, and some of the area's attractions include Chain Bridge Honey Farm and Eyemouth Museum. Coldingham Priory and Lindisfarne Centre are also worth visiting.


Inglestone House Guest House - Kelso
Located in Kelso, within 37 km of Maltings Theatre and Cinema and 23 km of Melrose Abbey, Inglestone House Guest House offers a garden and free Wi-Fi throughout. The property is about 29 km from Etal Castle, 43 km from Chillingham Castle and 50 km from Lindisfarne National Nature Reserve. This guesthouse offers family rooms. All rooms include a wardrobe, flat-screen TV, en suite bathroom, bed linen and towels. Some rooms have a view of the garden. A full English/Irish and vegetarian breakfast is served each morning.
http://inglestonehouse.co.uk/

Glede Knowe Guest House - Innerleithen
Glede Knowe Guest House is a large, modern, 4-star house set on an elevated site in 4,000 m2 of landscaped gardens. It offers free Wi-Fi, an outdoor patio and a hearty Scottish breakfast. Rooms are spacious and offer views of the hills. Each has a TV with Freeview channels and tea and coffeemaking facilities. There is a private or separate bathroom. In addition to a hot breakfast, you can enjoy a continental breakfast tray with croissants, cold cuts, cheese and tomatoes. Packed lunches are available upon request. Glede Knowe Guest House does not serve dinner, but there are restaurants and pubs within walking distance.
http://www.gledeknowe.co.uk/