Croatia Istria Wine Roads 4 Nights

DURATION
5 days/4 nights

PRICE FROM
865 €

COLLECTION
Cycling - Standard

DESTINATION
Croatia

SEASONALITY
This tour starts any day of the year.
Highlights
There is something magical in Istria, the largest Croatian peninsula, immersed in the blue of the Adriatic. Its green forests, historic hilltop towns, vineyards, olive groves and gentle rivers are a perfect combination of the beauty of nature, history and culture. When you add to this the seductive tastes of excellent Istrian wines, you just know that this is an area which offers you everything you need. Enjoy an easy bike ride and explore Istria, passing through the hidden medieval towns of Grožnjan, Oprtalj, Motovun, and the former Roman colony of Poreč whose charm will leave you breathless. Passing through a landscape of hills framed by rivers, with forests, vineyards and olive groves, you'll enjoy every moment. Take a break at the winemakers and taste indigenous wines such as Malvasia and Teran, treat yourself to tasty delicacies and experience all the charms of Istria, this exciting Croatian wine region.
To see
-Groznjan
-Nova Vas village known for its famous wine cellar that is open to visits
-Bebmbo palace, city square, and museum
-Rovin
Testimonials
« We very much enjoyed our self-guided cycling tour. We had great support and communication in the planning. Throughout our week everything went off as planned. Mark B. »
« This was my second experience with Discover France and had, again, an amazing time with my children. If you want to discover, on your own, little cities in France, this is what you have to do. Linda G. »
« Our first but certainly not our last trip to beautiful France! The routes were well laid out, the app worked well, the bikes were comfortable and the hotels were excellent. Ingrid A. »
« We truly had a glorious time and only have compliments for you and your company. Equipment, information, assistance, accommodation were faultless and Solène at Discovery France took care of us from the first e-mail of enquiry until the end of the cycle trip. We truly can't wait for our next adventure with Discover France. Anna.V »
Previous
Next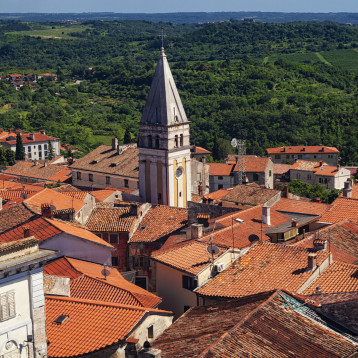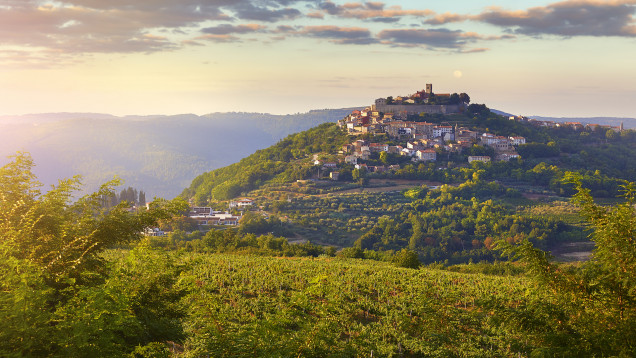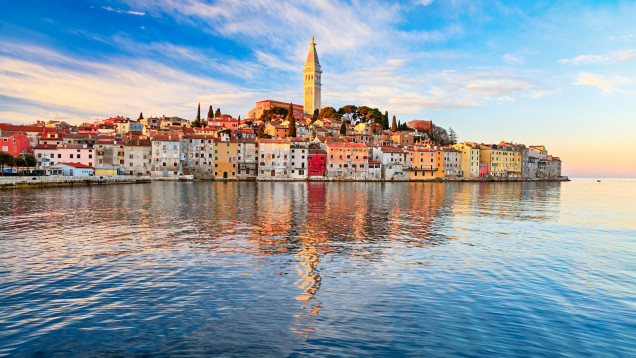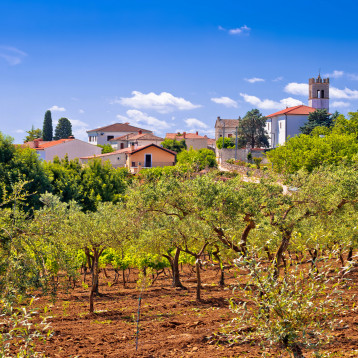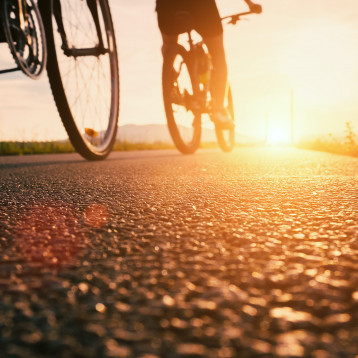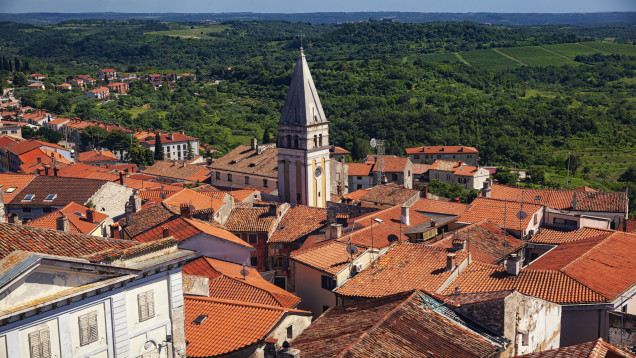 PROGRAM
J-1
Arrival in Porec

Arrival in Buje where you will meet your local guide. Upon arrival to your hotel in Buje, we will provide you with the package including hotel vouchers, bicycle with all equipment, maps and a roadbook. Overnight in Buje, in heart of Istria, a peaceful oasis for relaxation and an ideal starting point for daily exploration of this beautiful area.
Accommodation :
Casa romantica La Parenzana*** - Buje
show
Accommodation :
Boutique Hotel San Rocco**** - Brtonigla
show
Included :
phone not provided,mobile guidance application,roadbook,travelbook,Orientation with a local guide,luggage transfer,bedroom and breakfast
---
J-2
Buje - Grožnjan - Oprtalj - Zigante Truffle Days in Livade - Motovun

From Buje, you will continue towards Groznjan, a typical Istrian medieval town sprout high on top of a hill along the right coast of the river Mirna, renaissance loggia dating from 1585 and the beautiful St. Vitus and Modesto's baroque church. If you wander in its streets, you will see that almost every door leads to art studios or galleries and windows from every direction echo the sounds of different music genres from classical to jazz. Because of this, Groznjan is known as "the town of artists".
Oprtalj has preserved an urban medieval style of building with narrow streets, shops, beautiful Venetian palaces, doors and covered passages. It also has a particularly unique view of the Istrian peninsula from the town loggia, according to many as the most beautiful of Istria. From Oprtalj, you are riding downhill and can enjoy the view on Mirna river before eventually arriving in Livade, the truffle center of Istria. Be sure to visit a local truffle shop and taste it in various forms. The truffle is a underground malodorous fungus believed to be an aphrodisiac. On the hill in front of the Livade is Motovun, surely the most famous and attractive Istrian medieval hilltown. Around Livade is the Motovun forest which streches along Mirna River valley and is especially rich with truffles. Overnight in Motovun.
Distance: 38 Km (24 mi).
Elevation: 747m
Accommodation :
B&B Villa Borgo - Motovun
show
Accommodation :
Wine & Heritage Hotel Roxanich**** - Motovun
show
Included :
luggage transfer,bedroom and breakfast

---
J-3
Motovun - Višnjan - Tar - Vabriga - Nova vas - Poreč

This part of the trip travels back to the coast. It follows the road to Višnjan where you will pass by an observatory. It is one of the 5 most famous observatories in the world. Višnjan sits at 246m of altitude and from there, you'll be able to catch a view of the west Istrian coast and the coastal town of Porec.
In the surroundings of Višnjan it is possible to visit many wine cellars to try wine from Porec area, especially Malvasia. The tour continues to Tar, a little town on the hill above the sea and to Nova Vas village by the famous cave (which you can visit). After passing a few more villages, the trail reaches Porec.
Distance: 40 Km (25 mi).
Elevation: 419m
Accommodation :
Hotel Porec***- Porec
show
Accommodation :
Grand Hotel Palazzo - Porec
show
Included :
luggage transfer,bedroom and breakfast

---
J-4
Poreč - Kanfanar - Bale - Kokuletovica - Archaeological Park Monkodonja - Rovinj

After breakfast, you can choose to either be transferred to Kanfanar or reach it on your own. Kanfanar is a small town above the Lim valley. From Kanfanar, the route is the flattest ride of all in this tour. Passing by Istrian inland villages, you will see traditional Istrian tool-houses (kazun). After reaching Bale, you can visit the Bebmbo palace, city square and museum. Continue to Rovinj and on the way you'll see "Palud," an ornithological reserve which you can cycle around. After the village Kokuletovica, you can turn in Monkodonja.
Monkodonja is a prehistoric hill town inhabited from around 1800-1200 BC during the Bronze Age. After Monkodonja, you will reach Rovinj, your goal of this tour and nicknamed the "Pearl of Adriatic". With its church and bell tower on the hill by the sea, it's very recognizable from all sides. Also called the Istrian Venice, Rovinj is an old town which was once an island and then connected with land, and it is famous for its traditional boat called a batana. Restaurants with fresh fish combined with malvasia will complete this week's experience. Everybody can enjoy Rovinj and its charm and magic.
Distance: Poreč to Kanfanar 33km (21mi), + Kanfanar to Rovinj 32 Km (19 mi).
Elevation: 462m, 170m
Accommodation :
Hotel Vila Lili*** - Rovinj
show
Accommodation :
Angelo Doro - Rovinj
show
Included :
luggage transfer,bedroom and breakfast

---
J-5
Departure from Rovinj

Today is departure day, you can take your time getting started in the morning, have breakfast and depart at your leisure from Rovinj. (Depart on your own). Depending on your wishes, we can arrange additional accommodation or transportation before or after your tour.
---
ARRIVALS & DEPARTURES
-Transfer is included to your first hotel for people arriving in Porec.
-We can organize private transfer for other arrival destinations such as Pula, Trieste, Venice for example (extra fees on request).
-You can use public transport to reach Buje, there are local buses running from Pula, Trieste, Venice and Ljubljana to Buje bus station. In that case please let us know your time of arrival and will pick you up at the Buje bus station and drive you to your hotel.
-Departure from Rovinj,we can arrange additional transfer after your tour.
BIKES

included
Your bike : Musing Twinroad Lite (or equivalent)
More info
CUSTOM BUILT HYBRID BIKE "MUSING"
Our hybrid bikes are custom built and designed for several day touring. All of our hybrid bikes have adjustable stem and come in 6 different sizes, male and female frame, so we will be able to make perfect fit for you.
Hybrid bikes are built from lightweight aluminum, and have wide gear range; triple chairing and 9 speed cassette, comfortable Selle Royal Freccia saddle, 28 inch wheels, fenders, integrated rear rack, dynamo powered lights
availalble pedals: flat, toe cages.
available size: Men's bike 52, 55, 58, 61 cm - Woman's bike 43, 48, 53 cm
Extra equipment included in bike rental: 1 side panier waterproof 20 liter, map holder, helmet, cycle computer, water bottle holder, saddle bag containing spare tube, tire lever and tools, rear rack, hand pump, lock.
Note: "Please notice that every bike change during the trip may cause an extra cost."


optional
Your bike : SCOTT E-Sportser 20 (or equivalent)
More info
The KALKHOFF – TASMAN IMPULSE 8''
available pedals: flat
available sizes: Unisex model : S,M size
Extra equipment included in bike rental: 1 side panier waterproof 20 liter, map holder, helmet, cycle computer, saddle bag containing spare tube, tire lever and tools, rear rack, hand pump, lock.
Note: "Please notice that every bike change during the trip may cause an extra cost."

Details
Included
ACCOMODATIONS
-4 nights of accommodation in superior hotels of charm with private shower and/or bath
MEALS
-Daily breakfast at each hotel
BIKES
-Hybrid bike rental included
GEAR
-Complimentary Discover France Gear (including water bottle, drawstring bag)
-Guidance Application (phone not provided)
SUPPORT
-Orientation in person with our local guide
-Detailed ROAD BOOK, including detailed maps, touristic information, step by step itinerary and cue sheets
-Comprehensive trip literature
-Technical and emergency support available at all times

TRANSFER
-All luggage transfers
Not included
-Dinners
-Airfare to and from the trip
-Lodging before and after the trip
-Drinks
-Some meals are not included in each destination, which gives you the opportunity to explore regional cuisine on your own. You will find all information needed with our team support in your roadbook
-Multirisk travel insurance
Other questions?
See our FAQs page for answers to common questions.
FAQ

Rates
Tour rates vary based on hotel availability and specific start date
PRICE FROM / PER PERSON
STANDARD HOTEL ACCOMODATION

UPGRADED HOTEL ACCOMODATION

* Please contact us for triple hotel rates. ** Traveling with a group. *** Traveling alone.
Upgrade your bike
From / Per person
CANCELLATION INSURANCE
Cancellation insurance 6%
STANDARD HOTEL ACCOMODATION FROM
UPGRADED HOTEL ACCOMODATION FROM
Casa romantica La Parenzana*** - Buje
The family-owned Casa Romantica La Parenzana is a rugged former farmhouse with thick stone walls, wooden beams and open fireplaces, offering fine Istrian cuisine and free internet. Located close to Buje in Istria, on the former tracks of the Parenzana Railway Line, the historic towns of Motovun and Grožnjan are just about a few yards from the Casa Romantica La Parenzana.
http://parenzana.com.hr/en/

Boutique Hotel San Rocco**** - Brtonigla
Set in the Istrian village of Brtonigla, Boutique Hotel San Rocco is a luxurious heritage hotel nestled in a historic building and offering exclusive accommodation in unique surroundings. The hotel consists of 14 double rooms. Each room is designed to detail and each offers a unique atmosphere. Details in wood, stone and wrought iron evoke local tradition and are closely related to the territory. The elegant restaurant drawn by the spaces where once the family's Malvasia and Terrano wines were produced offers a vast gastronomic array based mainly on typical seasonal specialties, such as fresh locally caught fish, truffles, mushrooms, ham, game and other typical Istrian specialities.
http://san-rocco.hr/en/

B&B Villa Borgo - Motovun
Villa Borgo is situated at the top of medieval town of Motovun surrounded by hills full of vineyards and olive groves, old towns and valley of the river Mirna. The Villa is a recently restored building. Originally, it was an old traditional stone house, situated in the first row overlooking the magnificent charm of Istria's hinterland. The terrace offers the most beautiful sight of Istria's inland beauties and the specific quality of this house is also the vicinity of the main square, the walls as well as the main street filled with restaurants and souvenir shops. Villa Borgo offers several different types of rooms so that accommodation can be adjusted to personal wishes and needs.
http://www.villaborgo.com/en/

Wine & Heritage Hotel Roxanich**** - Motovun
Winery & Design hotel ROXANICH has a restaurant, seasonal outdoor swimming pool, a bar and garden in Motovun. Boasting family rooms, this property also provides guests with a terrace. The accommodation features a 24-hour front desk, room service and currency exchange for guests. All rooms at the hotel come with air conditioning, a seating area, a flat-screen TV with satellite channels, a safety deposit box and a private bathroom with a shower, bathrobes and slippers. At Winery & Design hotel ROXANICH rooms are equipped with bed linen and towels. Guests at the accommodation can enjoy a buffet breakfast.
https://www.roxanich.hr/en/wines?gclid=Cj0KCQiA2sqOBhCGARIsAPuPK0jZBKNz3tLV41zn3tdmw_pe7r7m6-tWmZMrKufFownBuT6K2Y4m-n4aApQKEALw_wcB

Hotel Porec***- Porec
Perfectly situated only 220 yards from the beach with a marina and the historic quarter, Hotel Porec offers the most comfortable stay with a host of sports facilities. You can indulge yourself in the restaurant or enjoy an extensive breakfast on the terrace; you can relax in the beauty area by having a massage or spend some exciting moments in the casino The hotel is open throughout the year, suited for business travelers and tourists alike. Founded in Roman times, the city has many private palaces that house museums and galleries, and streets that were built almost 2,000 years ago. Some towers are still preserved, with a restaurant in the Pentagonal Tower and a pub in the Round Tower. Porec won so many tourist awards and certificates as no other Croatian city.
http://www.hotelporec.com/en/hotel.html

Grand Hotel Palazzo - Porec
Built in 1910, in the contemporary style of the Austro-Hungarian Monarchy, the former "Hotel Riviera"is the first hotel in the rich cultural and historical heritage of the town of Porec whose guests were aristocrats. The hotel was renovated in 2009 with respect for the original architecture, and after many years it opened its doors once again, under the name of "Grand Hotel Palazzo". The hotel offers its international clientele a union of luxurious architecture of a past era and comfort of first-rate modern catering. Surrounded by the deep blue Adriatic Sea, with a view of the harbor and just a step away from the picturesque historic centre of the town of Poreč, the hotel offers its guests total comfort, with many recreation and relaxing possibilities: elegantly furnished rooms and suites, an outdoor swimming pool, a secluded wellness and spa zone, a space for seminars and congresses, as well as a restaurant and a café.
http://www.hotel-palazzo.hr/en-home/

Hotel Vila Lili*** - Rovinj
The Vila Lili is a small hotel located in a residential quarter near the sea and other hotels. The hotel has 17 rooms and 3 hotel suites which are exactly what you wanted for your holiday. The rooms are all different, they reflect the charm of your host. The beds are perfectly made for a good nights sleep with anti-allergy pillows. In the morning when you open the windows in your room the sun will caress your face, while the fragrance of the sea, lavender and rosemary will wish you a Good Morning. A lift and sauna, as well as a "magic lamp" wait to free you from your travel fatigue. The day bar is open all day and you will be thrilled by the Istrian wines. They are waiting for you to discover them.
http://hotel-vilalili.hr/en/

Angelo Doro - Rovinj
A historic building in a cobblestone street leading to the church of St Euphemia and steps away from Rovinj's main square has been carefully renovated and transformed into a charming small hotel, where traditional features are combined with up to date facilities to ensure a unique and comfortable stay.
http://www.angelodoro.com/