Alsace Hiking

DURATION
7 days/6 nights

PRICE FROM
1403 €

COLLECTION
Hiking - Standard

DIFFICULTY
or

DESTINATION
Alsace

SEASONALITY
This tour starts any day of the year.
Highlights
Hiking in Alsace is a unique experience as you explore a part of the region that is nestled between the beautiful Vosges mountains in France and the borders of Germany and Switzerland. Alsace is a combination of cultures and therefore charm. The famous Route du Vin (wine route) encompasses at least 100 wine producing villages between Strasbourg and Colmar, creating some of France's best wines.
The region also offers gourmet cuisine and has more Michelin star restaurants than any other region. Experience gastronomy in refined and traditional dishes like the famous baeckeofe. The beauty of its traditional architecture will surprise you with village after village of pretty half-timbered houses decked with brilliantly colored flowers. On this tour, you will mainly walk on GR trails, which are well maintained and marked.
To see
- Alsatian vineyards
- Haut Koenigsbourg Castle
Gastronomy
Choucroute, Quiche Lorraine, Munster
Wine
The Riesling, Gewurztraminer, Alsatian Pinot Gris
Testimonials
« We very much enjoyed our self-guided cycling tour. We had great support and communication in the planning. Throughout our week everything went off as planned. Mark B. »
« This was my second experience with Discover France and had, again, an amazing time with my children. If you want to discover, on your own, little cities in France, this is what you have to do. Linda G. »
« Our first but certainly not our last trip to beautiful France! The routes were well laid out, the app worked well, the bikes were comfortable and the hotels were excellent. Ingrid A. »
« We truly had a glorious time and only have compliments for you and your company. Equipment, information, assistance, accommodation were faultless and Solène at Discovery France took care of us from the first e-mail of enquiry until the end of the cycle trip. We truly can't wait for our next adventure with Discover France. Anna.V »
Previous
Next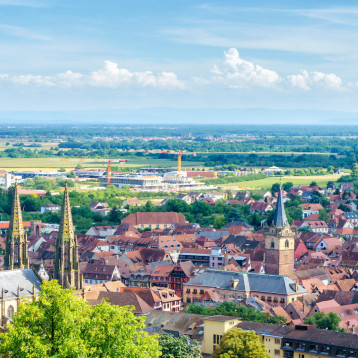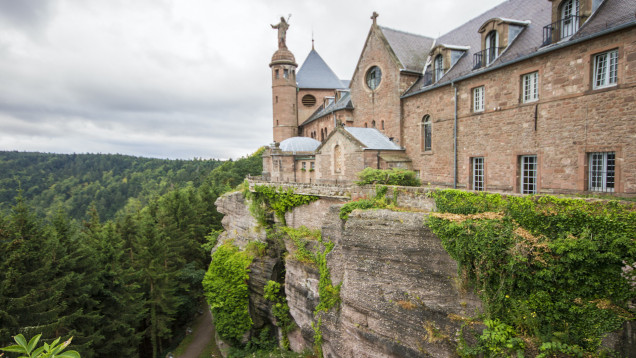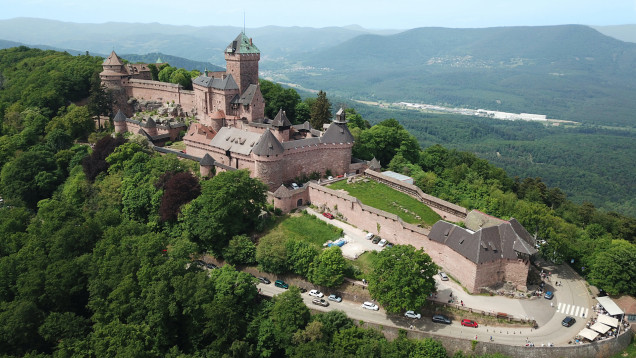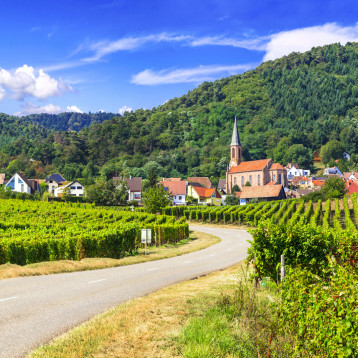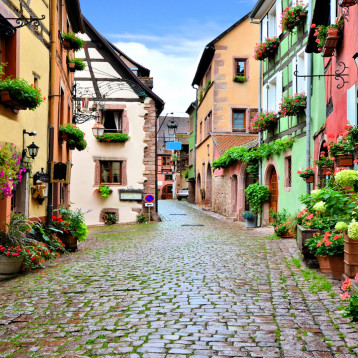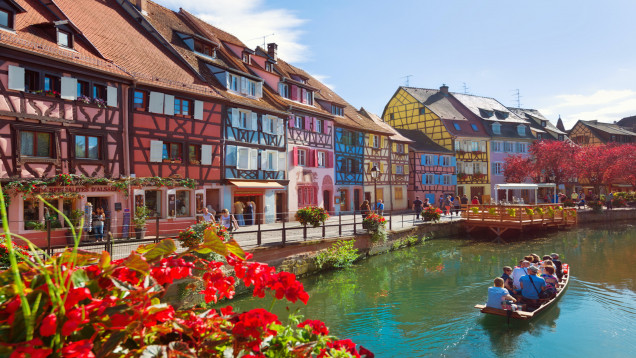 PROGRAM
J-1
Arrival in Obernai

Arrive in Obernai, (transfer on your own to the hotel), south of Strasbourg along the Wine Route. Rail access from Frankfurt is also possible.
If you have the time, here are some sites to visit in Strasbourg : Petite France : The popular corner of the Grand Ãle (the Main Island) is where the Ãle river splits up into a number of canals, and cascades through a small area of half-timbered houses. Ponts Couverts : Towers and footbridges situated at the end of Petite France Cathedral, built from 1190 to 1439. Quartier Allemand (German District), the showcase of German neoclassical architecture in Strasbourg.
Accommodation :
A la Cour d'Alsace Hotel**** - Obernai
show
Included :
Emergency support,phone not provided,mobile guidance application,roadbook,travelbook,Orientation with a local guide,luggage transfer,bedroom and breakfast,Access to the Spa
---
J-2
From Obernai to Barr

Today you start from your hotel and go to the Mont Saint Odile. You will then walk on to Barr covering about 17km with some hills and a forested trail. You can have lunch at the summit of the hills at the Mont St Odile then descend nicely to Barr. You are in tree cover most of the day which doesn't allow for long views, but you come out into the wine country around Barr and can sample some of the excellent local wines when you are back.
Distance : 17 Km (11 mi).
Elevation : 654 m.
Duration : 5 hours.
Accommodation :
5 Terres Hôtel & Spa**** - MGallery - Barr
show
Included :
luggage transfer,bedroom and breakfast,dinner (no drinks)

---
J-3
From Barr to Itterswiller

You have two hiking options today, but both take you through vineyard country and on to the Foret d'Andlau and the passing by the wine town of Bernardville before going on to Itterwiller. The short route will take about 3.5 hours and the long itinerary 4.5 hours.
Distances : 10 or 14 Km (6 or 9 mi).
Elevation : 480 m.
Duration 3.5 or 4.5 hours.
Accommodation :
Hotel Arnold*** - Itterswiller
show
Included :
luggage transfer,Wine tasting,bedroom and breakfast,dinner (no drinks),Access to the Spa


Wine tasting
Before your dinner, we will organize a wine tasting in order to discover the best wines of the area !
---
J-4
From Itterswiller to Ribeuville

Your destination today is Ribeauville, but we will start with a taxi transfer at 9am to the Chateau of Haut Koenigsbourg. The castle is nestled at a strategic location on a high hill overlooking the Alsatian plain. From there, you will have a scenic hike back to Ribeauville, through the Forest de Ribeauville on the GR5 path. In the Middle Ages, Ribaeauville was the seat of the Seigneurs de Ribeaupierre - the Lords of Ribeaupierre (hence the town's name of Ribeauvillé).
NOTE : You won't have the possibility to buy lunch or snacks in Itterswiller before you leave on your hike. We suggest you get some snacks at the Haut-Koenigsbourg. The earliest you'll find a food market (but no bakery) and restaurants is in Thannenkirch, which is half-way through on your itinerary.
Distance : 11 Km (7 mi).
Elevation : 242 m.
Duration : 4 hours.
Accommodation :
Hotel de la Tour*** - Ribeauville
show
Included :
taxi,luggage transfer,client transfer,bedroom and breakfast

---
J-5
From Ribeauville to Kaysersberg

Your destination today is Kaysersberg, a charmingly little village. You will hike in the vineyards in the morning to reach Ricquewihr, the perfect stop for lunch. Ricquewihr is a medieval town located in the heart of the vineyard, which is well known for its picturesque and its outstanding architectural heritage. Hiking in the forest in the afternoon, you will head to another remains of chateau to visit, just before Kaysersberg where you stay overnight.
Distance : 10 Km (6 mi).
Elevation : 432 m.
Duration : 3.5 hours.
Accommodation :
Logis Hotel les Remparts*** - Kaysersberg
show
Included :
luggage transfer,bedroom and breakfast

---
J-6
From Kaysersberg to Colmar

You will first hike to Turkheim, known for its Gewurztraminer, traditional Alsatian cuisine, and stunning surrounding scenery. Then walk to Colmar, one of the most charming of all the Alsatian villages. Of interest are the various museums : (Unterlinden, Bartholdi, du Jouet), and the old town architecture (Old Customs House, Pfister House, Cathedral, etc.). Walking enthusiasts will enjoy Petite Venise, a typical quarter with very well-preserved old Alsace homes, the yacht harbour and the pedestrianized old town with its many shops.
Distance : 16 Km (10 mi).
Elevation : 217 m.
Duration : 4.5 hours.
Accommodation :
Hotel Beausejour*** - Colmar
show
Included :
luggage transfer,bedroom and breakfast

---
J-7
Departure from Colmar

You can take your time getting started in the morning to have breakfast and depart at your leisure. (Depart on your own). You have easy rail access from Colmar to Strasbourg, from where you can catch a train back to Paris or Frankfurt.
---
ARRIVALS & DEPARTURES
Trains to Obernai from Paris CDG Airport & from Paris « Gare de l'Est » train station. Trip is about 3h20min. Departure from Colmar to Paris Gare de l'Est 2H50min. Flights to Strasbourg from Paris 1H 10min then train to Obernai. International flights to Frankfurt possible.
Details
Included
ACCOMODATIONS
- 6 nights of accommodation in superior hotels of charm with private shower and/or bath
MEALS
- Daily breakfast at each hotel
- 2 dinners included
ACTIVITIES
- 1 wine tasting (not available on Sunday )
GEAR
- Complimentary Discover France Gear (including water bottle, drawstering bag)
- Guidance Application (phone not provided)
SUPPORT
- Orientation in person with our local guide
- Detailed ROAD BOOK, including detailed maps, touristic information, step by step itinerary and cue sheets
- Comprehensive trip literature
- Technical and emergency support available at all times

TRANSFER
- All luggage transfers
Not included
- Airfare to and from the trip
- Lodging before and after the trip
- Drinks
- Some meals are not included in each destination, which gives you the opportunity to explore regional cuisine on your own. You will find all information needed with our team support in your roadbook.
- Option for an in-person orientation with a supplement.
-Multirisk travel insurance
Other questions?
See our FAQs page for answers to common questions.
FAQ

Rates
Tour rates vary based on hotel availability and specific start date
PRICE FROM / PER PERSON
STANDARD HOTEL ACCOMODATION

* Please contact us for triple hotel rates. ** Traveling with a group. *** Traveling alone.
STANDARD HOTEL ACCOMODATION FROM
A la Cour d'Alsace Hotel**** - Obernai
In the old home of the Barons of Gail, discover the unique character of a hotel which caters to your every need. The stylishly renovated buildings of the hotel provide for a cozy atmosphere. Original wooden-beamed ceilings, the painstakingly refurbished half-timbering, and the artistic witnesses of centuries past create a link between the guest and the culture and history of Alsace, its cuisine and hospitality. Cosying up to the city walls, A La Cour d'Alsace is a dream setting for your nights in Obernai. The interiors present an elegant marriage of traditional and contemporary elements. The tastefully furnished rooms and suites have been designed for your comfort. A La Cour d'Alsace invites you to take care of yourself. During your stay, enjoy the pool and jacuzzi, sauna, steam room, massages and beauty treatments.
http://www.cour-alsace.com/en/

5 Terres Hôtel & Spa**** - MGallery - Barr
The history of the 5 Terres Hotel & Spa goes back to the 16th century. A former Bürgerstube (town hall), factory and then brewery, the building is firmly anchored in Barr and its winegrowing heritage. Located opposite the Town Hall, whose facade is listed as a historic monument, among cobbled streets and half-timbered houses, it is part of Barr's landscape and lives to the rhythm of the traditions of Alsace.
https://5terres-hotel.fr/fr/

Hotel Arnold*** - Itterswiller
The Hotel Arnold is located in the village of Itterswiller, In the middle of the Alsatian vineyard. You will be welcomed at the foot of the Vosges Mountains, in a friendly house with luxurious arrangements, 28 rooms. Hotel Arnold's restaurant is located across the street. La Winstub, a former wine cellar, serves home-made dishes and regional cuisine made from local, seasonal produce.
http://www.hotel-arnold.com/

Hotel de la Tour*** - Ribeauville
Join the Hotel de la Tour in the heart of the historical city of Ribeauville, in Alsace. The Hotel de la Tour is facing the Tour des Bouchers, the famous tower of our medieval town. The Hotel de la Tour is an independent hotel, but is part of the european n°1 hotel network "Les Logis". You will stay in one of the 31 comfortable rooms. The Hotel de la Tour offesr you a wellness center (sauna, hammam, jacuzzi) with no extra charge. Moreover, you will be able to taste a large variety of Alsace wine from the bar. Ribeauvillé is really in the heart of Alsace, directly on the Route des Vins (wine road) and its numerous wine cellars. As you can see, the Hotel de la Tour is an excellent starting point to discover the Alsace area and its numerous historical visits : Riquewihr city , castle of Haut-Koenigsbourg, Colmar city... The Hotel de la Tour is very close to animals parcs : Monkey Mountain (Montagne des Singes), Birds of Prey, Eagles (Volerie des Aigles), the Storks Reintroduction centre...
http://www.hotel-la-tour.com/

Logis Hotel les Remparts*** - Kaysersberg
On the edge of the historical town of Kaysersberg in Alsace, bordering forest and vineyards, the hotel les Remparts offers you calm and comfort. The 40 rooms, located in two buildings, are all equiped with bath, WC, private bar, phone and TV. These apartments typical of Alsace are just outside the forest, making for a peaceful location. Besides, the hotel has a well equiped conference room, a bar, private parking, 18 garages, a sauna and leisure room (billard, table tennis). No restaurant under the same roof but a lot of them easily reachable by foot in the old town. The hotel les Remparts would welcome you for an unforgettable stay in the heart of the Alsatian vineyards
https://lesremparts.com/

Hotel Beausejour*** - Colmar
Le Beauséjour is a family-run establishment, located just a few steps from the historic center of Colmar. It offers individually decorated rooms and has a restaurant overlooking its garden. Guests can enjoy traditional and regional dishes in the candlelit dining room or in the garden in warmer months. The hotel also offers a daily breakfast. The Hotel Beauséjour is located less than 8 minutes on foot from the historic center of Colmar by entering via rue Vauban. Leave your car in front of the hotel on the free parking spaces 24 hours a day or reserve your place in the private car park at the single rate of €11 per day. Also located 8 minutes by car from the Alsatian vineyards, surf the wine route and discover, Eguisheim (favorite village of the French in 2013), Riquewihr, Kaysersberg (favorite village of the French 2017), Ribeauvillé, to reach Bergheim at the foot of the Haut Koenigsbourg and the Volerie des Aigles in Center Alsace... All accommodation is equipped with a flat-screen TV and free Wi-Fi access. They are serviced by a lift. The Charme rooms feature Provençal furniture, while the Privilege rooms are decorated with blue and red furniture. The Keller family has been providing quality accommodation since 1913. Thanks to the establishment's privileged location, you can reach the city center in just 8 minutes on foot and discover its districts rich in history. You will also find near the Hotel Beauséjour the famous Christmas markets, where you will have the opportunity to discover the tastes and traditions of this famous region.
https://www.beausejour.fr/