Loire Valley Walking Tour

DURATION
7 days/6 nights

PRICE FROM
1675 €

COLLECTION
Hiking - Standard

DESTINATION
Loire Valley

SEASONALITY
This tour starts any day of the year.
Highlights
Easy Loire Valley hiking trip to Chambord, Cheverny, Chaumont Sur Loire, Cheverny, Amboise and Chenonceaux ! The Loire Valley has seen many of France's kings pass through its regions, the "valley" is known as the Kings Valley. It is probably most famous for the King Francois Ier who was under the crown during the building of some of the most extravagent castles during the renaissance. However, many of the castles in the Loire date from the Medieval period and some even before. Listed as a Unesco World Heritage site, the valley offers so many chateaux, mansions, churches, and abbeys that a visitor can't possibly see it all! On this tour from Blois you will travel past Amboise visiting numerous chateaux and historical sites including Blois, Chambord, Cheverny, Chaumont, Amboise, Chenonceau! The hiking is mostly over flat terrain and encompasses some vineyards, low river lands, and forests.
During the harvest season, cellar visits and wine tasting are subject to availability and security conditions. During this period, it may be difficult to book these activities. For more information, please contact your travel consultant.
To see
Royal Chateau of Amboise or the Clos Lucé (former home of Leonardo De Vinci), Chambord castle - Chambord, Cheverny castle + Tintin's museum – Cheverny
Gastronomy
Fricassee of snails with Sancerre, the Crottin of Chavignol, the Valencay, 1550 chicken with saffron, the Blois orchard, the rillette, the cremet d'Anjou, the caramandes, the tuffline
Wine
Muscadet, Pouilly Fume, Sancerre, the light red Saumur, Bourgueil, Chinon
Testimonials
« We very much enjoyed our self-guided cycling tour. We had great support and communication in the planning. Throughout our week everything went off as planned. Mark B. »
« This was my second experience with Discover France and had, again, an amazing time with my children. If you want to discover, on your own, little cities in France, this is what you have to do. Linda G. »
« Our first but certainly not our last trip to beautiful France! The routes were well laid out, the app worked well, the bikes were comfortable and the hotels were excellent. Ingrid A. »
Previous
Next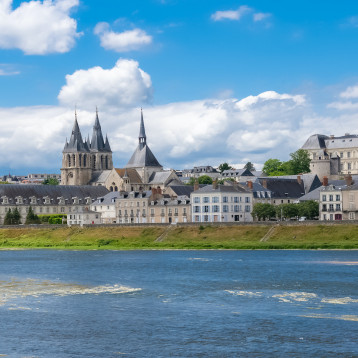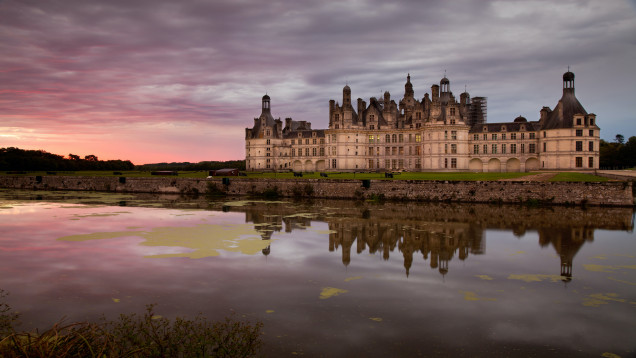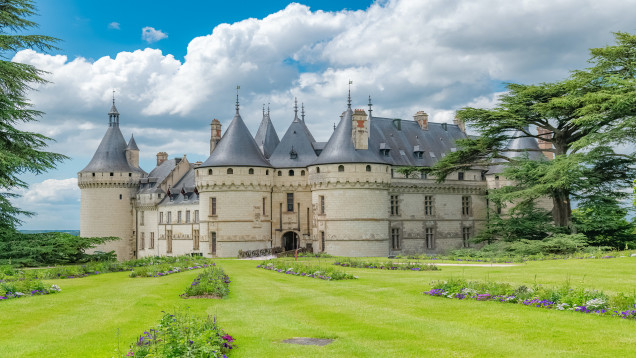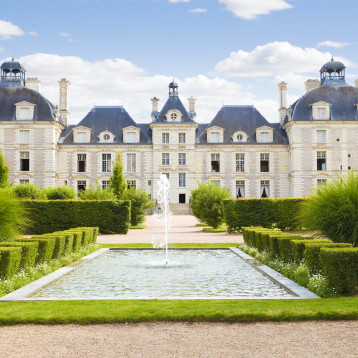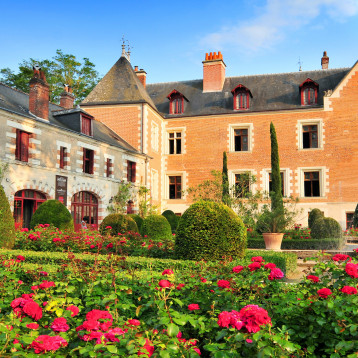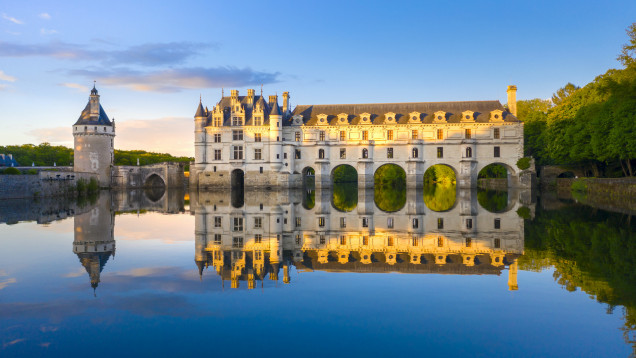 PROGRAM
J-1
Arrival in Blois

Arrival in Blois, (transfer on your own to the hotel), famous for its Royal Renaissance Chateau. Blois is a short train ride from Paris and has plenty to offer for your first night : pedestrian streets, 18th century stone bridge, St Louis Cathedral, shopping, restaurants... And since you are spending the night in Blois, don't forget to check if there is a Light and Sound show tonight.
Accommodation :
Mercure Blois Centre**** - Blois
show
Included :
Emergency support,concierge service,phone not provided,mobile guidance application,roadbook,travelbook,bedroom and breakfast
---
J-2
From Blois (taxi to chambord) to Bracieux

Our local guide (French native & English speaking) will meet you at your hotel at 9:30 am this morning. He will bring your road-books and touristic information.
An expert of the region, you can ask him all the questions you have about your trip.
Accommodation :
Hotel de la Bonnheure** - Bracieux
show
Included :
arrival transfer with english speaking guide,Orientation with a local guide,luggage transfer,taxi,client transfer,bedroom and breakfast,dinner (no drinks)

---
J-3
From Bracieux to Cheverny

This hike will take you to Cheverny, another famous town because of its Chateau. The present Chateau de Cheverny is an original jewel among the more famous monuments that stretch along the Loire Valley. In fact, Renaissance style did not find its place in Cheverny, which is built in the purest Louis XIII classical style, distinguished by an extraordinarily symmetrical architecture. But Cheverny is primarily known for being an inspiration to Herge, cartoonist and author of Tintin, who drew the castle in his comics as the Chateau de Moulinsart, home to Captain Haddock. We will transfer you to your hotel in Ouchamps at 3:30pm. (You will meet the taxi driver in front of Restaurant Pinnochio in Cheverny).
Distance : 14 Km (9 mi).
Elevation : 87 m.
Accommodation :
Le Relais des Landes**** - Ouchamps
show
Included :
luggage transfer,client transfer,bedroom and breakfast,dinner (no drinks)

---
J-4
From Ouchamps to Amboise

In the morning, start your hike from the hotel and cross Chaumont sur Loire village rich in history and a perfect place for walks along the riverbanks. Each year the International Garden Festival is held in the castle grounds. But Chaumont sur Loire is also known for its feudal castle dominating the valley. After your visit of Chaumont, we will transfer you to Amboise, where you will stay tonight. Transfer is fixed at 3:30 pm at the entrance of the Chateau. Amboise has a lot to offer and plenty to visit: The Royal Castle, which introduced Italian-style architecture in the 15h and 16th centuries; Clos Luce : last residence of Leonardo Da Vinci, where you can see some of his many projects in different fields.
Distance : 12 Km (8 mi).
Elevation : 35 m.
Accommodation :
Clos d'Amboise**** - Amboise
show
Included :
luggage transfer,client transfer,bedroom and breakfast

---
J-5
From Amboise LOOP

This small walking tour in Amboise will make you discover all the monuments and streets of the city.
Distance: 4km (3mi) or 6km (4mi)
Accommodation :
Clos d'Amboise**** - Amboise
show
Included :
Wine tasting,bedroom and breakfast


Wine Tasting
Wine tasting at Les Caves Ambacia (Duhard) - Amboise.
---
J-6
From Amboise to Chenonceaux

Start hiking in the forest of Amboise and through farm villages. Then continue your walking to the Cher River and the famous Chateau of Chenonceau, erected by Henry II in the 16th century over the Cher River; and then improved by Catherine de Medicis. Overnight in Chenonceaux.
Distance : 15 Km (9 mi).
Elevation : 160 m.
Accommodation :
Auberge du Bon Laboureur**** - Chenonceaux
show
Included :
bedroom and breakfast,dinner (no drinks)

---
J-7
Departure from Chenonceaux

You can take your time getting started in the morning to have breakfast and depart at your leisure. Transfer back to Tours TGV station on your own. Additional nights can be arranged.
---
ARRIVALS & DEPARTURES
Arrival is Blois which is accessible by train from Paris.
Departure from Amboise/St Pierre des Corp by train to Paris. Train from Paris. 1hour 40 minutes to Blois, 1 hour return.
Details
Included
ACCOMODATIONS
- 6 nights of accommodation in superior hotels of charm with private shower and/or bath
MEALS
- Daily breakfast at each hotel
- 3 dinners included
GEAR
- Complimentary Discover France Gear (including water bottle, drawstring bag)
- Guidance Application (phone not provided)
SUPPORT
- Orientation in person with our local guide
- Detailed ROAD BOOK, including detailed maps, touristic information, step by step itinerary and cue sheets
- Comprehensive trip literature
- Technical and emergency support available at all times
- Conciergerie support

TRANSFER
- All luggage transfers
Not included
- Airfare to and from the trip
- Lodging before and after the trip
- Drinks
- Some meals are not included in each destination, which gives you the opportunity to explore regional cuisine on your own. You will find all information needed with our team support in your roadbook.
- Multirisk travel insurance
Other questions?
See our FAQs page for answers to common questions.
FAQ

Rates
Tour rates vary based on hotel availability and specific start date
PRICE FROM / PER PERSON
STANDARD HOTEL ACCOMODATION

* Please contact us for triple hotel rates. ** Traveling with a group. *** Traveling alone.
STANDARD HOTEL ACCOMODATION FROM
Mercure Blois Centre**** - Blois
Ideally located among the Châteaux of the Loire valley and close to the town center, the Mercure Blois Centre hotel has everything you could need. The hotel is ideally located, facing the river Loire and offers spacious rooms with contemporary design. You'll love the bar and restaurant, as well as the Relaxation Area where you can unwind in the swimming pool, whirlpool bath, sauna and hammam.
http://www.accorhotels.com/fr/hotel-1621-hotel-mercure-blois-centre/index.shtml

Hotel de la Bonnheure** - Bracieux
Centrally located in Bracieux, between Chambord and Cheverny, The hotel de la Bonnheure is the ideal place for walks in an authentic village where you can go out and dine. The hotel has eleven rooms, one studio and two apartments. All accommodations are equipped with bathroom (bath or shower), TVwith TNT and telephone.
http://www.hoteldelabonnheure.com/

Le Relais des Landes**** - Ouchamps
In the Heart of the Loire Valley, le Relais des Landes is the ideal resting place for visiting the favourite region of Kings and Queens of France, its castles and its vineyards. This XVIIth century manor house in the middle of a 14 ha park in blossom surroundings and planted with trees, will allow you to appreciate the charm of a house with a lot of character and the pleasure of its covered and heated swimming pool located in the border of a forest.
http://www.relaisdeslandes.com/en/

Clos d'Amboise**** - Amboise
Hotel Le Clos d'Amboise is located in the very heart of the Royal City of Amboise, in the authentic and picturesque historic part of the city that contains Francois Ist's chateau, and further on, Leonardo da Vinci's residence, the Clos Lucé. This is a sumptuous 17th century house converted into a charming hotel in 2003 and upgraded into a luxury hotel in 2011 retaining its character. Hotel Le Clos d'Amboise stands apart with its discreet charm, its situation in Rue Rabelais a few paces from the pedestrian shopping streets which criss-cross the old city. and with the large house opening onto the park and terrace overlooking an immense lawn with century-old trees. The swimming pool nestles among rose bushes and cedars.
http://www.leclosdamboise.com/en/

Clos d'Amboise**** - Amboise
Hotel Le Clos d'Amboise is located in the very heart of the Royal City of Amboise, in the authentic and picturesque historic part of the city that contains Francois Ist's chateau, and further on, Leonardo da Vinci's residence, the Clos Lucé. This is a sumptuous 17th century house converted into a charming hotel in 2003 and upgraded into a luxury hotel in 2011 retaining its character. Hotel Le Clos d'Amboise stands apart with its discreet charm, its situation in Rue Rabelais a few paces from the pedestrian shopping streets which criss-cross the old city. and with the large house opening onto the park and terrace overlooking an immense lawn with century-old trees. The swimming pool nestles among rose bushes and cedars.
http://www.leclosdamboise.com/en/

Auberge du Bon Laboureur**** - Chenonceaux
Travel back in time and live the chateau life, just a stone's throw from Chenonceau. In the heart of a region dear to the kings of France, Auberge du Bon Laboureur distinctive hotel is a former post house founded in 1786. Antoine Jeudi settled there in 1902 and it is his great grandson, Antoine, who now watches over this cosy old residence. Although the clatter of horse hooves and of carriage or stagecoach wheels no longer resound in the old Bon Laboureur courtyard, Antoine Jeudi has successfully preserved the atmosphere of his house by retaining its erstwhile charm and simultaneously endowing it with very comfortable rooms, pleasant lounges, and a fine, highly-reputed restaurant.
http://www.bonlaboureur.com/